Services
Landscape Services
Geist Nursery is proud to offer a variety of Landscaping services to Indianapolis and Fishers. We are dedicated to working one on one with our clients and taking them step by step through the design and installation process. Click here to see our DESIGN FEE POLICY
Residential Landscaping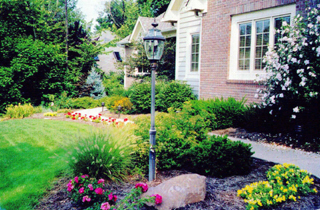 SELLING YOUR HOME? Just moved in? We provide many Residential Landscaping Services, whether you are starting from scratch OR re-landscaping your home.
Landscape Design
Landscape Installation
Privacy Plantings
Curb Appeal
Perennial Gardens
Flower & Container designs
Learn more about our Residential Landscaping Services
Hardscape Design & Installation
Thanks to our background in construction, home building, and restoration we can address all of your hardscaping needs.
Belgard® Patios
Custom decks
Pergolas & Screened Porches
Fire pits
Walkways and steps
Retaining Walls
Learn more about our Hardscape Design Services
Landscape Maintenance
Maintaining your landscape is the best thing you can do for your outdoor investment. A well-maintained landscape not only stands the test of time but also adds value to your home. We can produce a seasonal program so your landscape looks great all year! We take pride in treating your outdoor oasis as if it were our own. Our professional
crew will get the job done in a timely manner and we guarantee satisfaction. MULCH INSTALLATION and Landscape Maintenance contracts usually cost between $500-$2500* depending on size of beds, number of plants and amount of mulch. We quote these jobs individually, so please CONTACT US if you would like an estimate. (*Prices subject to change)
Yearly programs
Estate Management
Bed Edging
Mulch Installation
Professional Pruning
Pre & Post emergent weed control
Leaf & debris removal
We are conveniently located in Fishers, Indiana a suburb of Indianapolis.